Carelite LED
Carelite LED utilizes energy-efficient LED lightsources and provides full dimmability for a variety of applications as a bed head luminaire and in cosmetology settings. An integrated ergonomic handle enables the user to easily direct light where needed. The on/off and dimming switch is conveniently positioned near the handle making operation easy for a variety of users.
Integrated night light
Carelite LED is equipped with a night light providing low lighting for user orientation.
Exact positioning
Carelite LED has a covered spring-balanced arm for easy cleaning and safe and easy positioning. The flexibility and precision of the spring-balanced arm means Carelite LED can be positioned exactly where the light is required. The lightsources are positioned well inside the lamp head eliminating unwanted glare.
All-metal construction
Carelite LED is made of powder-coated aluminum and steel. It can be cleaned with any detergent, including acetone.
Protected by SteriTouch®
Carelite LED is coated with SteriTouch® antimicrobial powder coating to protect the product against degradation.
LED – light source of the future
Light emitting diodes are not only small and robust. Carelite's LEDs are extremely energy efficient, and have an incredible life span of 50,000 hours or more. The powerful LED module has an excellent light output giving approximately 2000 lux @ 24″ working distance.
Mounting Options
Edge clamp and wall mount available. Wall mount bracket sold separately.
Dimensional Drawing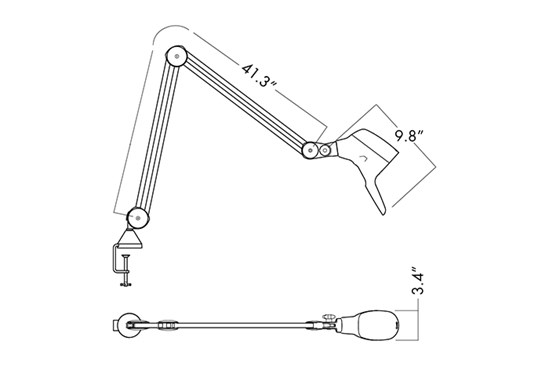 Technical Specifications
| | |
| --- | --- |
| Light Source | 8W Dimmable LED. 400 lumens. Infinity dimming. CCT: 3000K. CRI: >90 |
| Body Material | Steel arm with plastic covers and aluminum shade. Color: white. |
| Mounting | Edge clamp and wall mount available. Wall mount bracket sold separately. |
| Optics | N/A |
| Power Supply | Standard with cable and plug. On/off and infinity dimming. Nightlight starts at 1% light level. |
| Arm Technology | 41" heavy-duty internal-spring three-pivot arm. |
| Accessories | See Below |
Product Offerings
| Description | Part No | Color |
| --- | --- | --- |
| Carelite LED, 45" arm with wall mount, brackets sold separately | CAG026582 | White |
| Carelite LED, 45" arm with clamp | CAG026584 | White |
Accessories
| Description | Part No | Color |
| --- | --- | --- |
| Surface and flush mount bushing. | 31639 | - |
| B-Wall Mount for permanent mounting on vertical surfaces. | 50003WT | White |