LFM LED G2
LFM LED G2 is a lightweight magnifier with an all-metal construction, LED light sources, and a flexible spring-balanced arm in the Luxo tradition. The arm provides long reach and maximum vertical and horizontal movement, and will always stay in the right position without drifting. The flexibility of the joint between lamp head and arm makes exact positioning easy.
LFM LED G2 is equally well suited for professional use as for use by the visually impaired and others with a need for precise magnification. The light weight makes it easy to move around. LFM LED G2 is easily mounted with a removable table edge clamp.
Shadow-free magnification
The 5″ diameter glass lens is positioned in the middle of a circle of LED light sources. This is the ideal way of illuminating an object, virtually eliminating shadows.
LFM LED G2 is supplied with a 3 or 5 diopter glass lens. A cloth cover is provided to protect the lens from dust and to prevent the luminaire from inadvertently turning into a burning glass.
LED: Light source of the future!
LFM LED G2 is equipped with a full circle of LED. It has three-step dimming (100%-50%-0). The diodes automatically turn themselves off after 4 or 9 hours in order to save energy. LEDs have an incredibly long life span. The diodes in LFM LED G2 have a life expectancy of 50.000 hours. That means 25 years or more with normal use. You will never have to change the light source!
Colors
Light grey or White with black details
Mounting Options
Standard with table clamp. Other mounting options sold separately.
Dimensional Drawing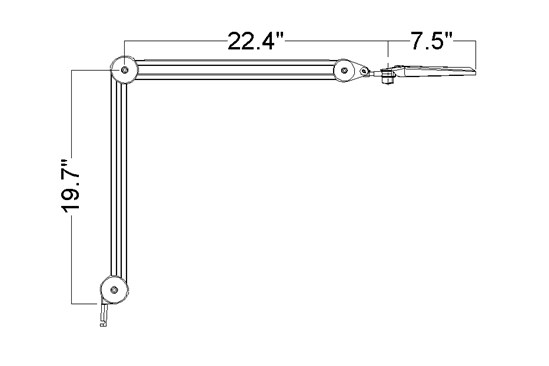 Technical Specifications
| | |
| --- | --- |
| Light Source | 1750 lux @ 13" focal length. Total energy consumption: 9W. Color temperature (CCT) 4000K. Color rendition index (CRI): 80. Standard with 3-step dimmer: 100-50-0%. |
| Body Material | Steel arm, shade in aluminum. Colors: Light grey or white with black details |
| Mounting | Standard with table clamp (AH clamp). Other table clamps, integrated table mounts and trolley are available on request. |
| Optics | Standard with 3 or 5 diopter glass lens. Lens diameter: 127mm. For additional magnification a secondary lens of 4, 6 or 10 diopter can be attached to the magnifier. |
| Power Supply | Delivered with 5ft. cable. Plug in power supply with quick connector. A shut-off function is integrated. The light will automatically shut off after 4 or 9 hours. |
| Arm Technology | Parallel, three-pivot arm. Arm length is 41". |
| Accessories | See Below |
Product Offerings
Description
New Part No
Old Part No
Color
LFM LED G2, 45" internal spring arm, 3-D lens and clamp
LFG028206
LFL026106
Light grey
LFG028210
18345WT
White
LFM LED G2, 45" internal spring arm, 5-D lens and clamp
LFG028207
LFL026107
Light grey
LFG028211
18346WT
White
Accessories
Description
New Part No
Old Part No
Color
4-diopter STAYS lens
SPD025980
50404
-
6-diopter STAYS lens
SPD025979
50406
-
10-diopter STAYS lens
SPD026119
50410
-
Rolling floor stand with casters and glides
50036BK
-
Black
50036LG
-
Light Grey
50036WT
-
White
C-Surface Mount for permanent mounting on horizontal surfaces
BRK025141
50005BK
Black
BRK025142
50005LG
Light Grey
B-Wall Mount for permanent mounting on vertical surfaces
50003BK
-
Black
50003LG
-
Light Grey
50003WT
-
White
Surface and flush mount bushing
31639
-
-