WAVE® LED
WAVE LED is a magnifier for a variety of applications. WAVE LED offer shadow-free magnification with light coming from both sides, as well as three-dimensional magnification with light coming from the left or right. The 3D-feature is especially welcome when working with delicate objects.
Maximum flexibility and precision
No knobs to tighten, nothing to adjust. The self-balancing shade and hands-free neck assembly make exact positioning easy. The spring-balanced arm provides maximum vertical and horizontal movement, and will always stay in the right position without drifting.
WAVE LED is supplied with a 3.5- (1.88X) or 5-diopter (2.25X) white crown optical-quality glass lens. A cloth shade cover is provided to protect the lens from unwanted dust and debris.
LED: Lightsource of the future
WAVE LED is equipped with two 6W LED modules, which are individually controllable. A 9/4 hour automatic shut-off feature and step dimming (0-50-100%) further ensure energy savings.
Colors
Light grey or White.
Mounting Options
Standard with an edge clamp or weighted base. Additional mounting options are available.
Dimensional Drawing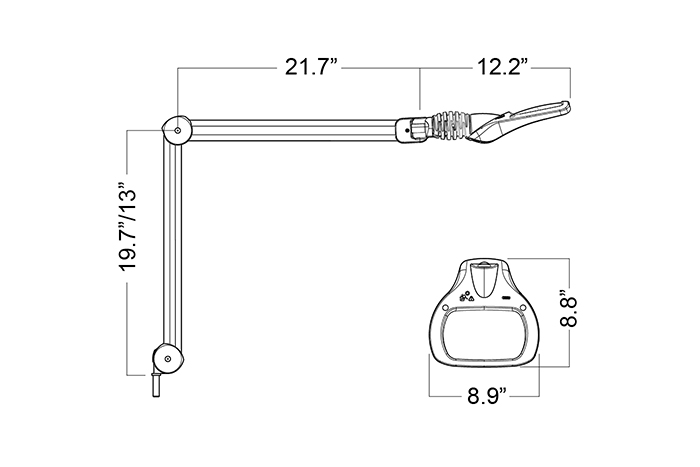 Technical Specifications
| | |
| --- | --- |
| Light Source | Two 6W dimmable LED modules. 13W total energy consumed. Step dimming: 0-50-100%. 4600 lux at 11" focal length. CCT: 4000K. CRI: 80 |
| Body Material | Heavy-duty internal-spring 45" or 30" parallel, three-pivot K-arm. |
| Mounting | Standard with edge clamp or weighted base. Additional mounting options are also available. |
| Optics | 3.5- (1.88X) or 5-diopter (2.25X), 6.75" x 4.5" rectangular white crown optical-quality glass lenses are standard. For additional magnification, a secondary 4-, 6- or 10-diopter STAYS lens can be attached to the primary lens. |
| Power Supply | Supplied with cable and plug. An integrated auto shut-off will turn the light off after 9 or 4 hours. |
| Arm Technology | Heavy-duty internal-spring 45" or 30" parallel, three-pivot K-arm. |
| Accessories | See Below |
Product Offerings
| Description | New Part No | Old Part No | Color |
| --- | --- | --- | --- |
| WAVE LED, 45" arm, 3.5-D lens and clamp. | WAL025968 | 18845LG | Light Grey |
| WAVE LED, 30" arm, 3.5-D lens and clamp. | WAL025970 | 18846LG | Light Grey |
| WAVE LED, 30" arm, 3.5-D lens and base. | WAL026133 | 18847LG | Light Grey |
| WAVE LED, 45" arm, 5-D lens and clamp. | WAL025969 | 18945LG | Light Grey |
| WAVE LED, 45" arm, 5-D lens and clamp. | WAL026445 | - | White |
| WAVE LED, 30" arm, 5-D lens and clamp. | WAL025971 | 18946LG | Light Grey |
| WAVE LED, 30" arm, 5-D lens and base. | WAL026135 | 18947LG | Light Grey |
Accessories
Description
New Part No
Old Part No
Color
4-diopter STAYS lens
SPD025980
50404
-
6-diopter STAYS lens
SPD025979
50406
-
10-diopter STAYS lens
SPD026119
50410
-
C-Surface Mount for permanent mounting on horizontal surfaces
BRK025141
50005BK
Black
BRK025142
50005LG
Light Grey
B-Wall Mount for permanent mounting on vertical surfaces
50003BK
-
Black
50003LG
-
Light Grey
50003WT
-
White
Surface and flush mount bushing
31639
-
-